How To Prepare for our Photo Safaris in New Zealand
Feeling ready to join us? Here are some tips to help you get the most out of our photo safaris.
While hunting is our biggest adventure at Kaweka Ranch, our non-hunting guests can indulge in the stunning scenery and wildlife on one of our photo safaris in New Zealand.
We love to see the photos and memories that our guests can capture! Our guides are even there to take you into the hunting area and escort you into a bow blind.
This provides you the opportunity to capture photos of deer feeding or rubbing their antlers on trees.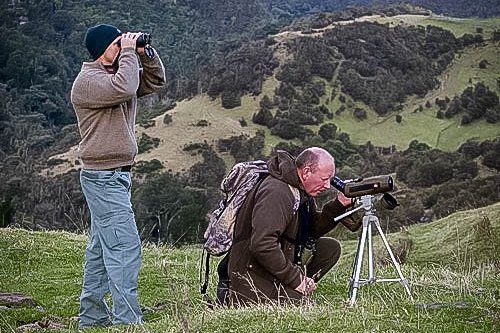 Choosing the Right Gear
When preparing for one of our photo safaris in New Zealand, you don't want to arrive without the right gear. The first thing you will want to decide on is your camera set-up. It is important that you can get close to the action without carrying heavy equipment that will weighh you down. The easiest way to do this is to acquire interchangeable lenses. In general, we recommend a lens with a zoom that is around 200-400mm. We also recommend a wider lens for landscape shots. Ideally, the perfect setup includes two cameras: one with a wide lens and one with a long lens.
Light is Key
When it comes to photographing any subject, good lighting is key. Regardless of how pricey your camera and gear are, your photos will come out flat without good lighting. Losing some sleep might be necessary to capture the best photos! The best lighting and opportunities happen before sunrise. Many animals retreat to the shade during the heat of daylight, so capturing active wildlife is more difficult during these hours. Comparably, during the hours of dusk is also a great time to capture brilliant photos, as the animals are waking up from sessions of afternoon napping, while the sun sets.
Pack Extras
Avoid bringing along a tripod since they tend to be awkward, and there is limited space on the vehicle. Since there will only be a few chances to transfer photos and charge your camera throughout the day, make sure that you pack extra memory cards and batteries. Regardless of what type of gear you bring along, knowing your camera inside and out before your trip is essential. If you are too busy toying with your camera, you are likely to miss out on all the action!
Golden Hour
The popular "golden hour", craved by landscape photographers everywhere, is a time to be desired. It provides a gorgeous, soft warm light that makes photographing animals a real treat. In the summertime, this light generally lasts approximately two hours before sunset. During our photo safaris in New Zealand, it is worth it to ensure that you get out into the golden hour to shoot at least one time to capture photos of your favorite animals.
Don't Forget the Environment
Don't forget to look up! You may be missing nests of large birds in the trees, or glimpses of a mother bird with her chicks. Birds are a fantastic subject to photograph, especially when soaring in flight or perched in a tree.
While it is easy to fixate yourself on the animals, you don't want to bypass the environment surrounding these animals. Photo safaris in New Zealand are the perfect opportunity to photograph breathtaking landscape! Utilizing a wider view while photographing animals is a great way to capture the environment. Even without an animal in sight, the environment is much to be desired all on its own.
Go with a Guide
Although it seems more ideal to save money by putting together a safari – it's worth it to book one of our guided photo safaris in New Zealand! Going with one of our quality guides provides you with a private, more intimate tour. This means that you won't be fighting to get a good view or moving on before getting the perfect shot. Our guides can provide you with knowledge and experience regarding the wildlife that you may not have. Due to this, you are sure to be in the right place, at the right time. If you go out on your own, or with a guide that is inexperienced, you are sure to miss perfect opportunities and stunning images. Listen to your guide, pay attention, and ask questions!
In short, the images that you can catch on our photo safaris in New Zealand are straight out of a dream. Travelers come to our beautiful country to experience everything that the landscape has to offer – and more! For those who are eager to explore, the local region is certainly a memorable landscape. From the breathtaking Pacific Ocean to the green mountain ranges, art-deco architecture and rivers, this country is something you don't want to miss.